Creating a childrens school memories scrapbook for each of my kids is something that I have been meaning to get done a long time ago.  As most parents would have stored away – I had boxes and folders full of photos, certificates and school reports.  I always felt it was such a shame to hide everything away until it's time to hand it over to the kids when they are older.  What would they do with it all once I gave it to them anyway?  Maybe they might have a quick look at a few items then store them away in a cupboard again for goodness knows how long.
Make the time to create your childrens school memories scrapbook
So I finally made some time to get this project done.  When I have finished, and it is time to hand over all of the memories during the kids school days, they will have everything in beautiful albums, ready to flip through, read and enjoy.  Then when they have their own children it will be easy to show them and nothing can get lost.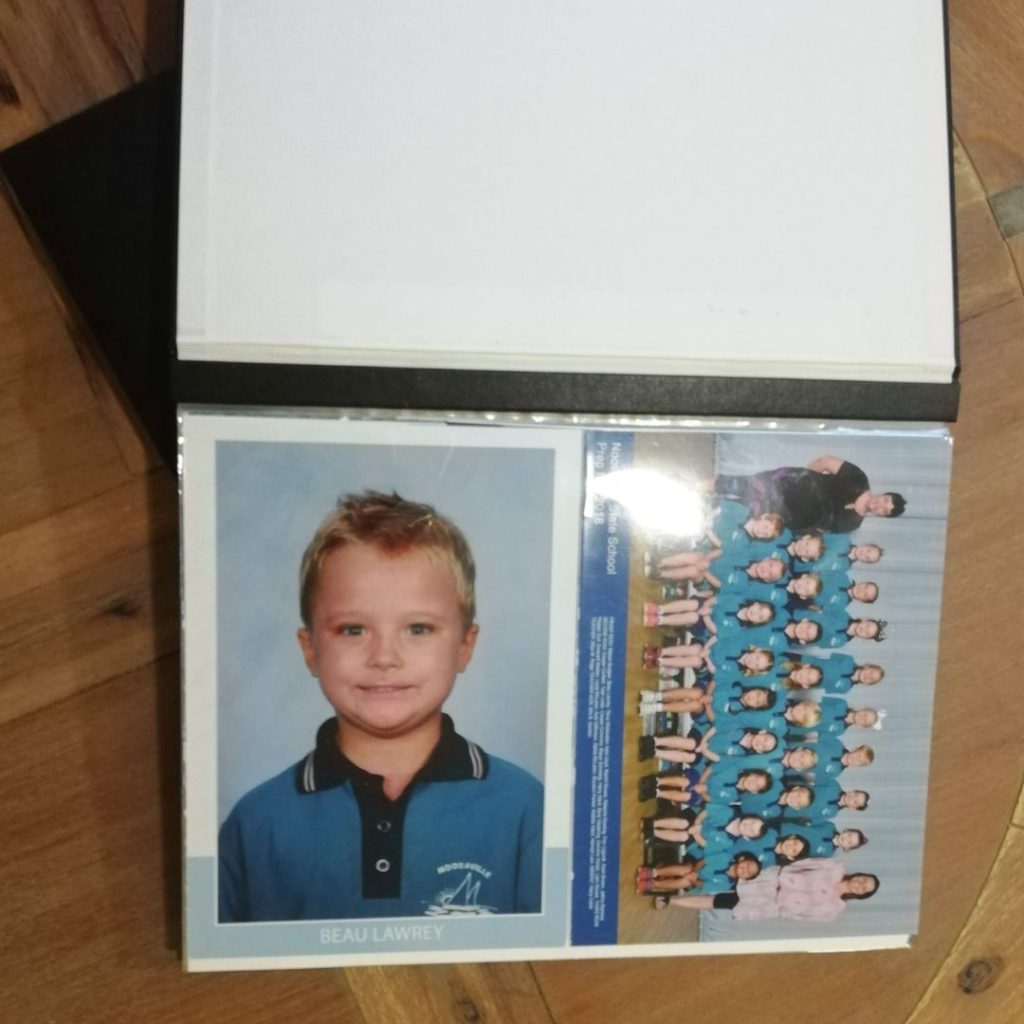 Organising for your childrens school memories scrapbook
The first thing I did and probably the hardest part is organising EVERYTHING!  I started with sorting everything into a pile for each child.  This consisted of school photos, reports, awards, sports awards, pictures they had drawn and even birthday cards.
Once I had a pile of items for each child I then went through and decided if I really needed to keep it all – I mean really, they do come home with sooo many drawings and projects from school that I decided we didn't need to keep it all.
Where to store it all
I decided the best way to store everything was to use an A3 size scrapbook.  These books are very large, but this way it is easy to see everything and you can store more on each page.  Most of the items I wanted to keep in the albums were A4 size or smaller so it worked out great.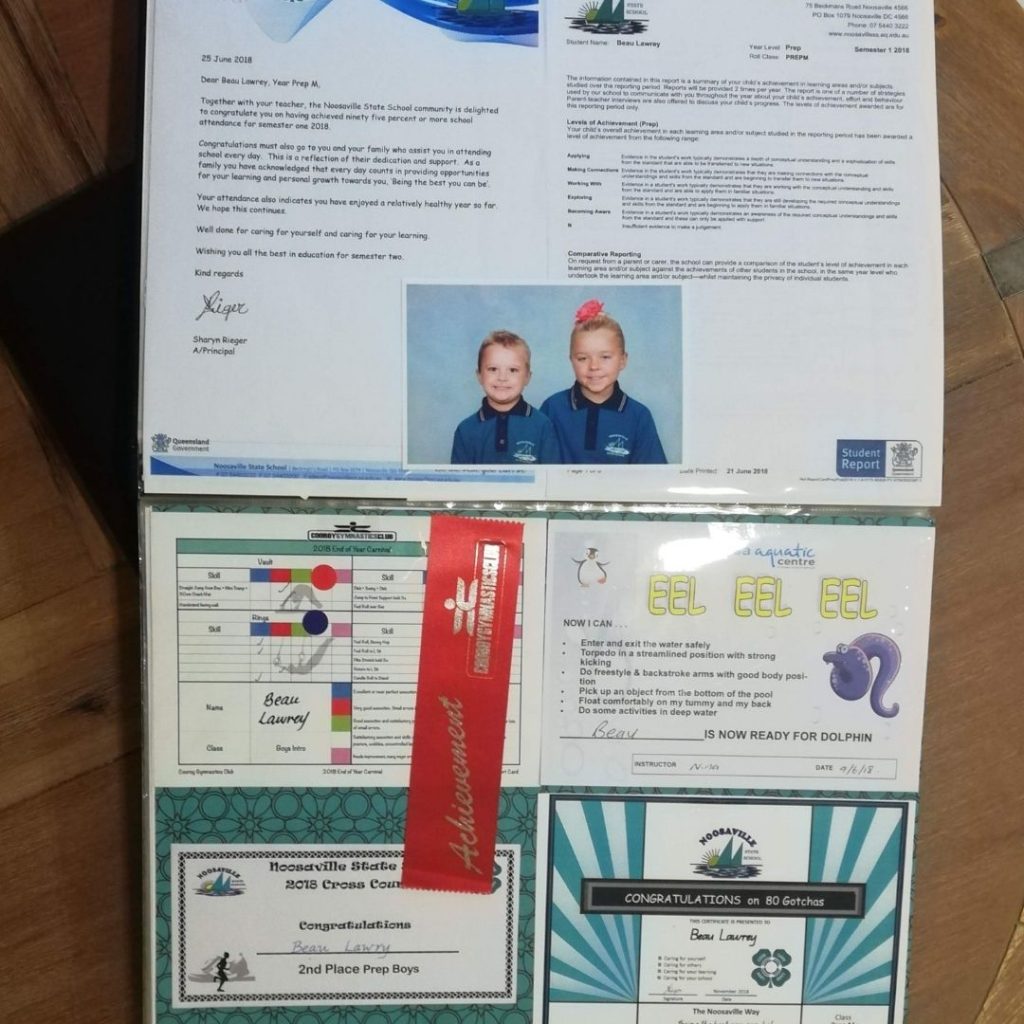 Dividing the album into years
I decided I would create an album for each of them just for their primary school years.  So I divided up the pages of the album by how many years they were at primary school and this gave me the basis for how many pages I could use for each year at school.  The album pages can be used double sided too so there was a generous amount of space for each year.
I put a note on each page that was to start the next school year and then sorted each pile of items into years.  Once that was done I began to add everything to the scrapbook pages.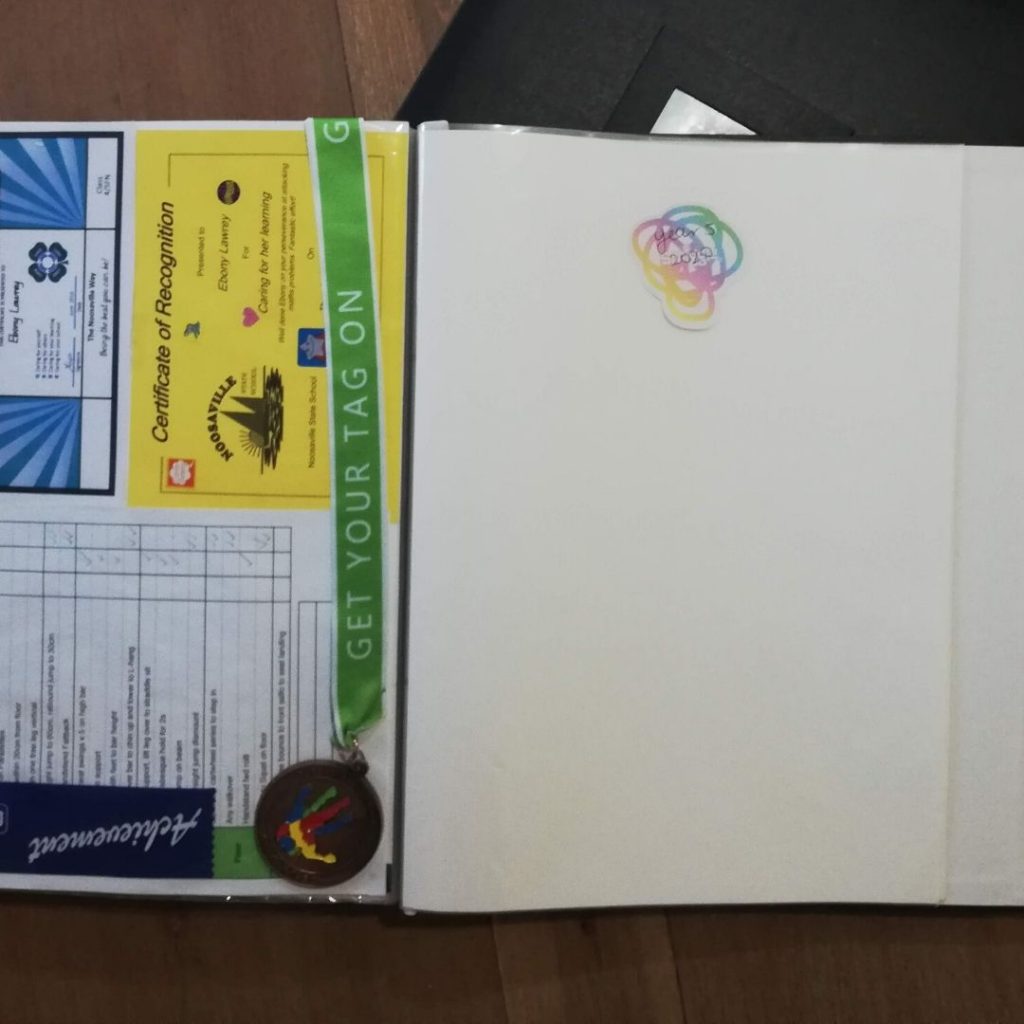 Be creative with the layouts
Some pages I managed to get a lot of things on and some I chose to only display a few.  When there were pages that would have a large amount of white space showing I used some decorative scrapbook paper as the background and attached the items to those.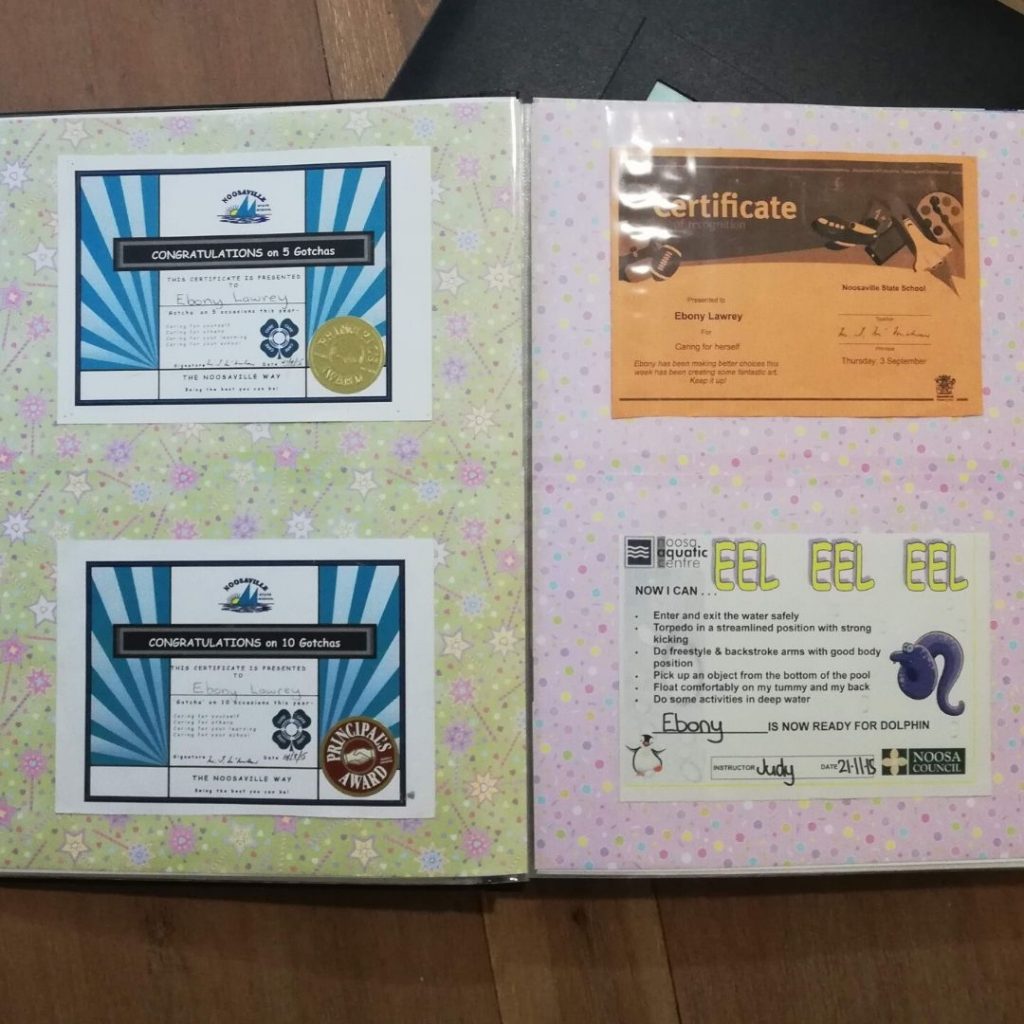 Add more pages if you need to
The Buckram scrapbook albums are great in the fact that you can add more pages to them if you need to so I wasn't worried if I used more than the allocated pages for each year.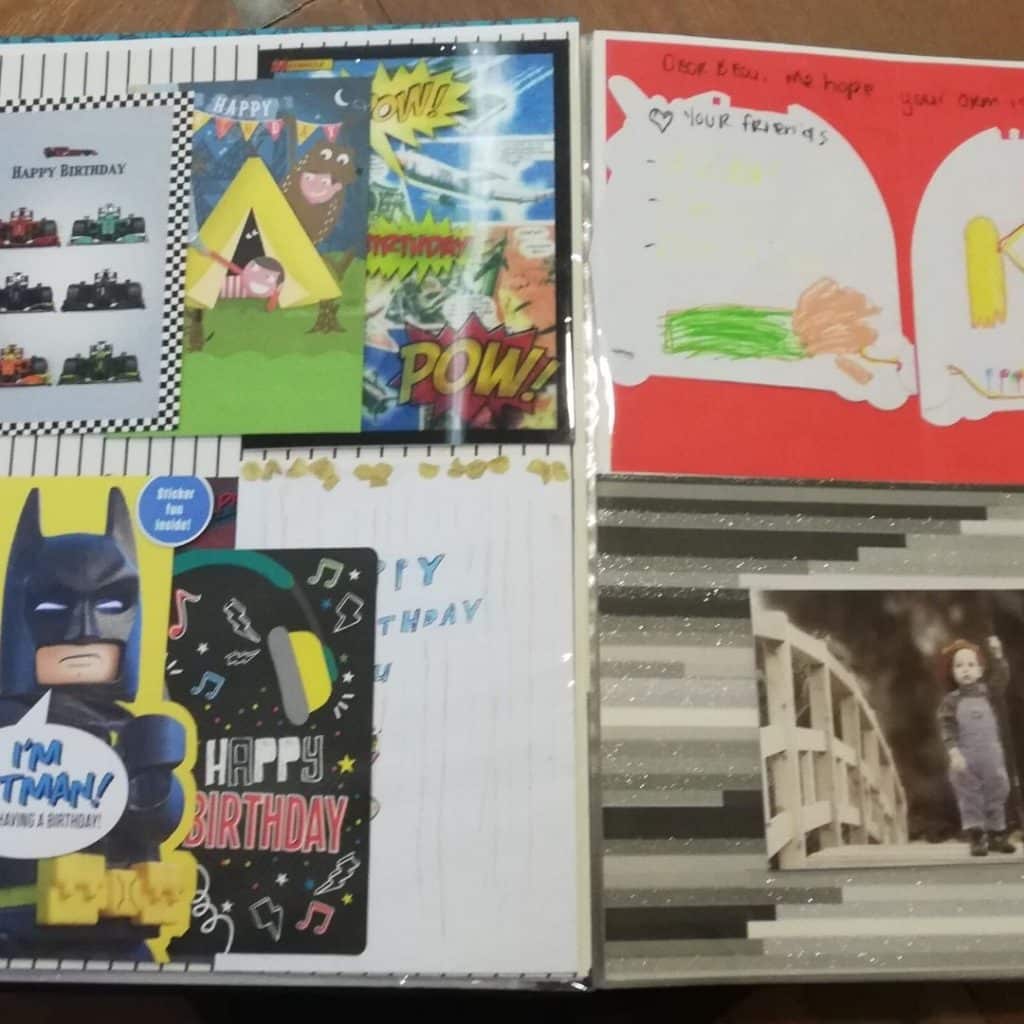 Complete your childrens school memories scrapbook with a photo and description
When I had finished adding all the bits and pieces to the album pages I printed a school photo of each child from their first year at school and added their name and years at primary school.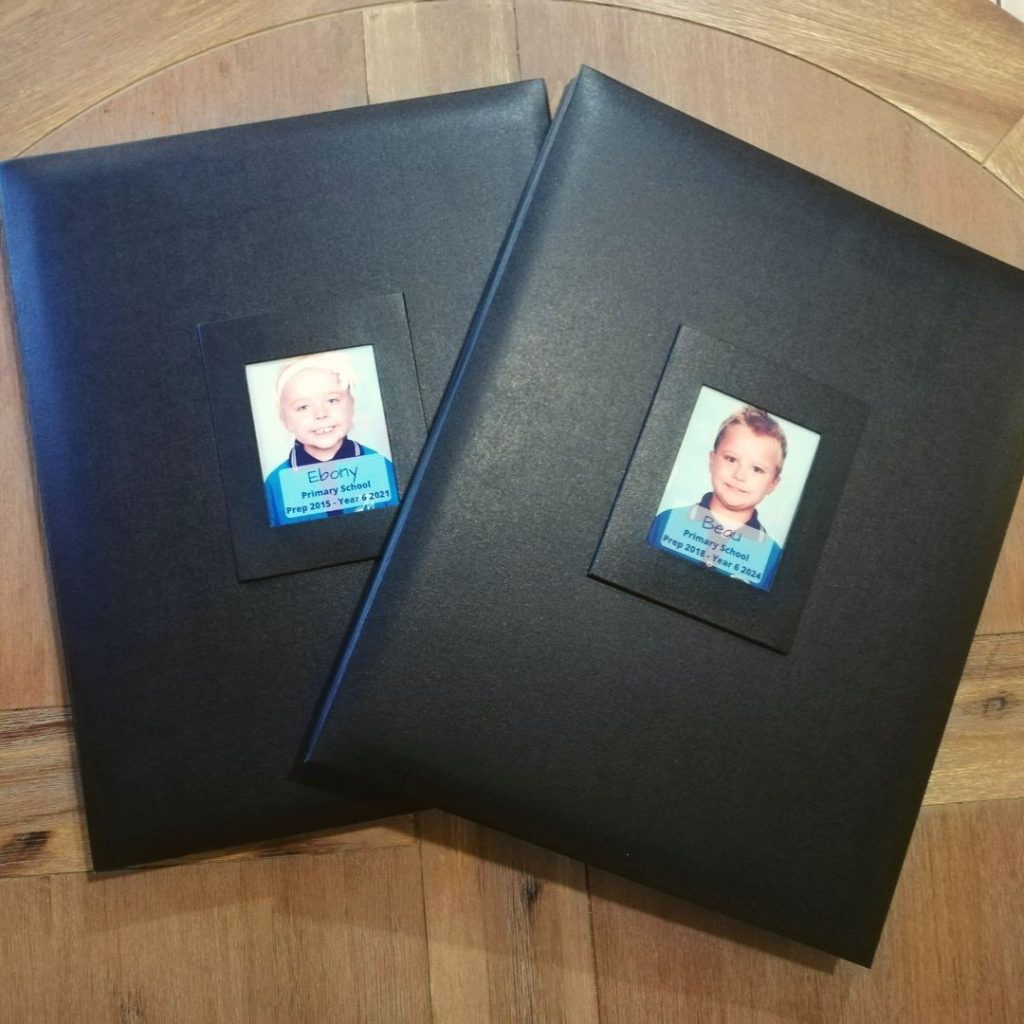 Show them off for everyone to see
These albums are now stored safely in our bookcase and readily accessible to everyone that would like to take a peek at what has been done at school over the past few years.  I plan to add to the albums at the beginning of each year with what they have done the previous year, so this way I will only be storing up to a years worth of memories and achivements in the cupboard.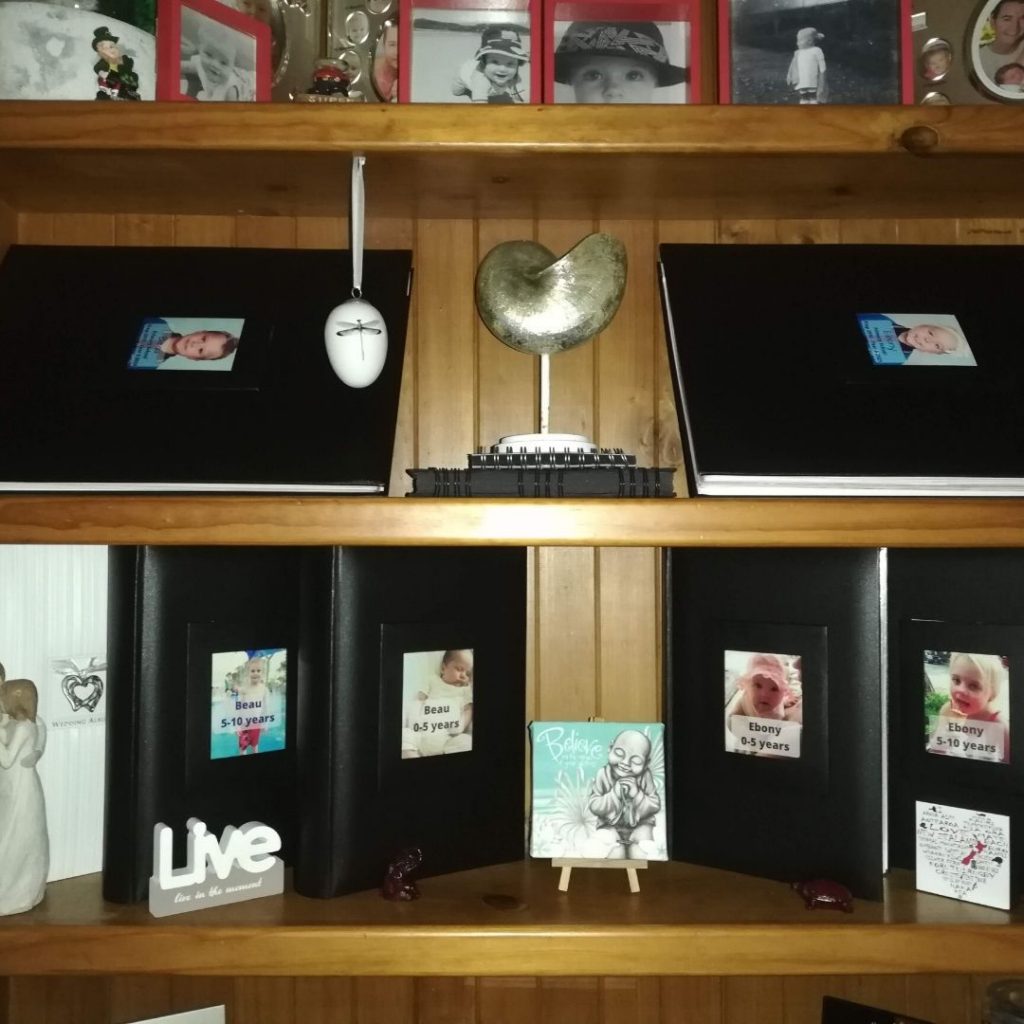 I am super pleased with how they have turned out and wish that I had created them earlier as it was so enjoyable looking through all the things that we had stored away.
If you have a cupboard full of things that your kids have created and accumulated over the years I would definitely suggest giving this idea a go and creating your own childrens school memories scrapbook.  The end result is very rewarding and I know it will be a great gift to give my kids when the time comes to hand over all these precious memories.
Until next time,
Vee
What did I use in this projects?  Find these items here: